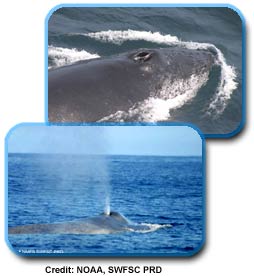 These marine mammals have sleek, bullet-shaped bodies, and a strong tail that propels them to swim. Most have a long 'nose' area, or rostrum, and a dorsal fin on their back. Cetaceans move their tails up and down to push themselves through the water. Fish, in contrast, move their tails from side to side.
Cetaceans must breathe voluntarily — unlike humans who breathe without thinking about it. To breathe, cetaceans come up to the ocean's surface and breathe through a special hole on the top of their head called a blowhole.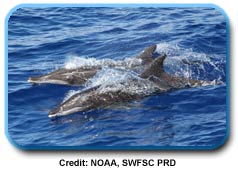 Unlike most mammals, cetaceans do not have much hair. Instead they have layers of fat under their skin called blubber. This blubber keeps the animals warm, helping them regulate their body temperatures.
There are two major groups of cetaceans. The first is the toothed whales. They include the dolphins and porpoises, and as well as the beluga, orca, and sperm, and other whales. Most toothed whales eat fish or squid and use their teeth to rip apart their prey.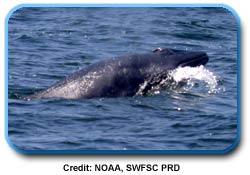 Cetaceans in the second major group have large 'toothbrush-like' plates in their mouths called baleen and are known as the "baleen whales." The baleen allows these animals to strain their food out of the water. Their diet tends to include smaller prey such as krill, a shrimp-like animal.