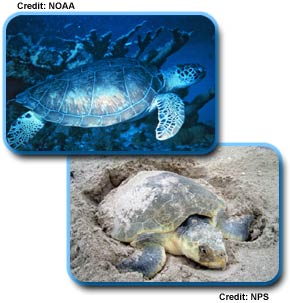 Sea turtles are reptiles. Other marine reptiles include sea snakes, marine iguanas, and the American crocodile.
Most sea turtles have a hard shell that protects much of their body. The Leatherback is the exception named of course for its leathery shell. Shells of sea turtles grow with them during their lifetime, unlike lobsters or crabs which are discarded, or molted. Sea turtles have powerful front flippers which move up and down to swim. Their back flippers stabilize them in the water.
Sea turtles spend almost all of their life at sea. In fact, after hatching, male sea turtles never return to land at all. The females come up on beaches to lay their eggs in the sand.
All seven species of sea turtle are threatened or endangered.
All reptiles (including sea turtles):

have scaly skin.
lay eggs.
are ectothermic, sometimes called "cold blooded." This means that their body temperature depends on their outside environment and remain in warm waters.**

**Exception: The Leatherback Sea Turtle can keep its body warmer than its surroundings, a very unusual adaptation. This allows the Leatherback to travel to much colder waters than other turtles.