Overview | Coastal Development | Introduced Species | What is Being Done?
Coastal Development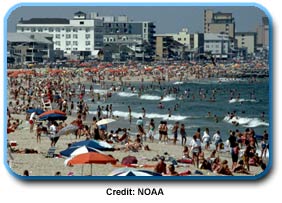 How are habitats affected by coastal development?
People use the ocean for food, recreation, medicine, travel, and other purposes. Many human activities cause changes to ocean habitats. Coastal development-the building of homes and businesses along the coast-impacts ocean habitats in many ways.
When buildings are constructed, plants and other vegetation along the coast are often removed. Losing this vegetation has a negative impact due to the fact that vegetation is a natural habitat for many other organisms. In addition, coastal vegetation slows flooding and erosion by keeping sand and sediment from washing into the ocean.
Some species, such as sea turtles, are particularly affected by coastal development for tourism. The more people who visit the nesting sites of sea turtles, the greater the likelihood that the nests will be disturbed. In addition, the lights which are kept on at night in buildings can disorient sea turtles during nesting and interfere with their natural migration routes.
Docks and piers built for recreation affect underwater habitats, i.e. coral reefs. These constructions affect seals, sea turtles, and other animals that use beaches and coastal areas for breeding/nesting, or in the case of seals, relaxing. When there is development along the coast, there is also an increase in pollution and less vegetation and soil to soak up rain water.
---
Research Links Related to Protecting Habitats:


Activities Related to Protecting
Habitats:
Predators Among Us
147 KB, pdf
This lesson will focus on human beings as predators, specifically in coral reef ecosystems.


Other Resources Related to Protecting
Habitats:
Deep Sea Coral
280 KB, mpeg,
There is coral at the bottoms of oceans all over the world, often over a mile deep.
Credit:
http://www.signalsofspring.net/aces/webfiles/otherfiles/earth_sky.gif

Saving Crop Diversity
1434 KB, mpeg, audio clip
The Svalbard Global Seed Vault will store a backup collection of the worlds seeds to save crop diversity.
Credit:


Saving the Earth's 'last dinosaurs'
360 KB, mpeg, audio clip
Leatherback turtles are not actually dinosaurs, but they are ancient and amazing animals.
Credit:


Sea Turtles Dig the Dark
2940 KB, mpeg, video
Public Service Announcement put out by the Fish and Wildlife Service to protect sea turtle nesting habitats.